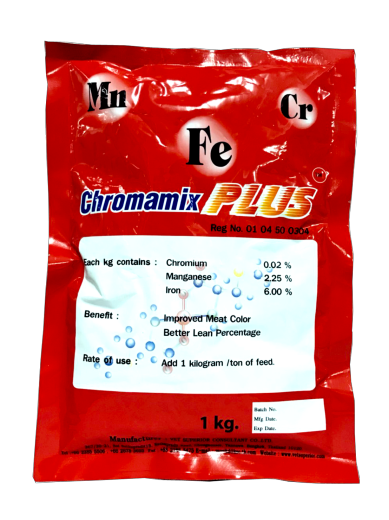 PRODUCT NAME : CHROMAMIX PLUS
CHROMAMIX PLUS has a positive effect on body weight gain, increase loin eye area, reduce backfat thickness, increase carcass length, dressing and lean percentage, decrease cholesterol content in loin eye muscle. Use of Chromamix Plus results in  remarkable significant effects on increasing color scores of loin eye meat color.
BENEFITS:
1. Increase litter size and weaned piglets per sow per year.
2. Increase birth weight & weaning weight of piglets.
3. Reduce pre-weaning mortality of piglets.
4. Decrease days from weaning to estrus and increase LSY.
5. Increase long-life of the sow.
6. Decrease culling sow due to lameness and reproductive failure.
7. Improvement quality of sperms.
APPLICATION :
Add in feed at 1 kg per ton of feed.
PACKING :
25 kg bag.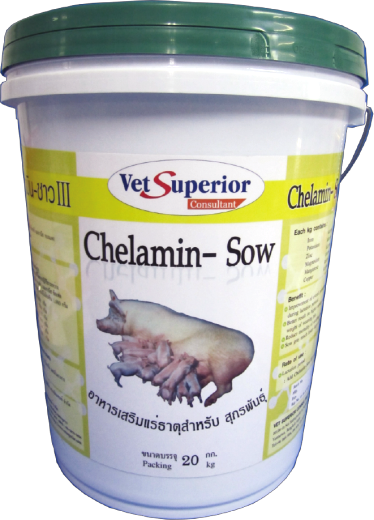 PRODUCT NAME : CHELAMIN SOW ii, iii
BENEFITS:

Mixture of several kind of amino acid chelated minerals for use as feed supplementation in Sow during gestation and lactation period. The benefit of amino acid chelated minerals are being absorbed through placenta thus help to enhance the performance of sow in both state, gestation and lactation.
Advantages on uses of Chelamin Sow can be expected to increase survival number and birth weight, reduce still birth and mortality of newborn pig, improve overall performances of sow during lactation, better result on higher number and better weight of weaning pig, reduce mortality of suckling pig and sow gets much faster days of return to estrus.
APPLICATION :
Add 2 kg per ton of feed.
PACKING :
25 kg bag.