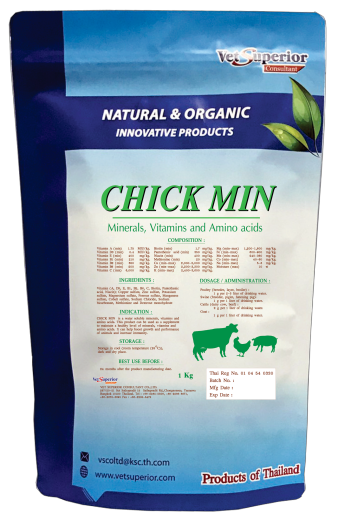 PRODUCT NAME:CHICK MIN
CHICK MIN is a water soluble minerals, vitamins and amino acids. This product can be used as a supplement to maintain a healthy level of minerals, vitamins and amino acids.
BENEFITS:
1. Increase performance parameters.
2. Increase growth performance.
3. Improve feed efficiency.
4. Increase yield.
APPLICATION:
Add 1 kg per ton of feed.
PACKING:
1 kg bag.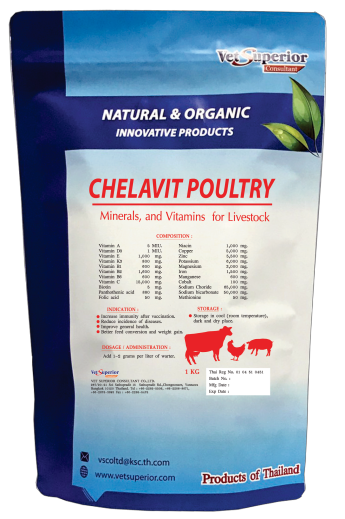 PRODUCT NAME:CHELAVIT POULTRY
BENEFITS:
CHELAVIT POULTRY is a powder formulation containing a complete vitamin and organic mineral mixtures, type amino acid chelates, as well as methionine, lysine and electrolytes. The product is designed for use in drinking water of broiler, layer, both pullet and laying hen, breeding stock of broiler as well as duck. Recommendation is to use as a standard program for supplementation via drinking water. Result on use of Chelavit Poultry is to improve feed per gain and daily weight gain, faster growth rate and enhance immunity after vaccination. Improvement of general health and reduce incidences of diseases can be also expected.


APPLICATION:
1-2 gm per liter of drinking water.
PACKING:
1 kg bag.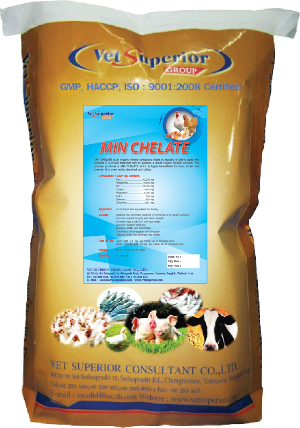 PRODUCT NAME: MIN CHELATE
Min Chelate is an organic mineral compound made by reacting of amino acids with minerals in a proper balanced ratio to produce a stable organic mineral complex. This process produces a Min Chelate which is highly bioavailable for layer, broiler and breeder. It is more reality absorbed and utilized.

Application:
Layer : Add 0.5 kg per metric ton of complete feed.
Broiler Breeder Add 0.5 kg per metric ton of complete feedinitial.

PACKING: 25 kg bag