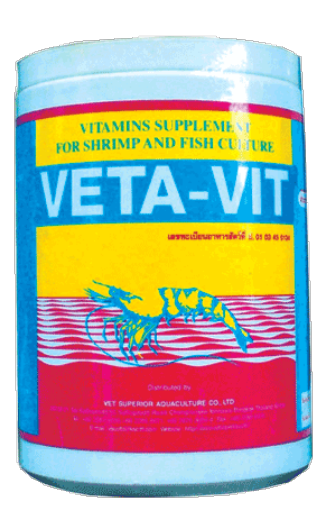 PRODUCT NAME : VETA-VIT
Essential Vitamins for Shrimp and Fish Larvae
Benefits:
To prevent vitamins deficiency in broodstock, shrimp and fish larvae.
Boost immunity.
Improve the health of broodstock , fish and shrimp larvae to resist various types of disease.
Shrimp will be healthier with better survival rate.
Application:
5 grams per ton of water, 1 time per day.
Packaging :
1 kilogram per can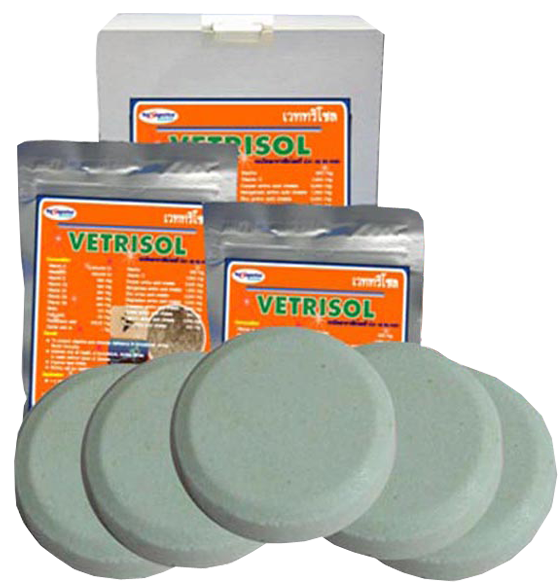 PRODUCT NAME : VETRISOL
Water Soluble Vitamins, Minerals and Immunostimulant Shrimp Larvae
Benefits:
Help adapt balance in the hatchery such as calcium,
Potassium, Zinc, Manganese, Iron and cobalt in
order to improve high larvae growth rate effective molting.
Help larvae get through each stage effectively.
Each mineral formed of Amino acid chelate resulting the fast absorption for larvae.
Increase survival rate, stimulate immune system and decrease the stress.
Application:
1-2 tablets per ton of water, 1 time per day.
Packaging :
Tablet 2.5 grams : 20 tablets per bag, 10 bag per box